Mexico is a beautiful, vibrant country with much to offer. I haven't been there in many years, so I went in search of someone with more current knowledge of our southern neighbor.
Linda Cahill and her husband Joe have taken several trips to Mexico. Many of these excursions were recognition trips Linda earned for sales and recruiting excellence and team leadership with The Pampered Chef.
"We've been to several places in Mexico," says Linda. "Without a doubt, Los Cabos has been our favorite. Our accommodations were excellent. The weather was perfect. We enjoyed the beaches and the many activities offered…parasailing, scuba diving, snorkeling, and glass bottom boat tours. It was fun to sample some of the local cuisine and talk to the people from the area. They were so friendly, and went out of their way to make us feel welcome."
Los Cabos is a municipality located at the southern tip of Mexico's Baja California Peninsula, in the state of Baja California Sur. Los Cabos consists of the towns of Cabo San Lucas and San José del Cabo as well as the Resort Corridor that lies between the two. It is bordered by La Paz to the north, and surrounded by the Pacific Ocean and Gulf of California.
The weather in Los Cabos is mild. The region boasts 320 days of sunshine per year. Temperatures range from an average low of 72˚ in February through April to an average high of 84˚ from August through October.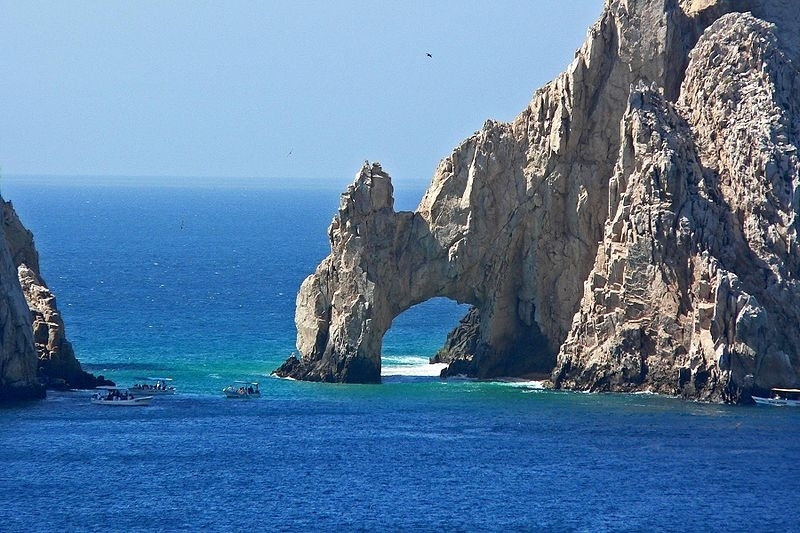 Los Cabos where the Gulf of California meets the Pacific Ocean
Could this be your next vacation?
The region is home to over 850 species of aquatic animals, many of which are unique to the area. It is the marlin sportfishing capital of the world and whale watching tours are available December through March. Cabo Palmo is a national marine park for ocean conservancyknown for its friendly sea lions. If marine life is not your thing, take a camel ride or play one of the six major golf courses in the area.
According to Linda, "Cabo San Lucas is known for fishing, nightlife and whale watching. It is home to Sammy Hagar's Cabo Wabo bar and restaurant. San José del Cabo is quieter and better known for it's art galleries. The town is 300 years old. Joe, who is interested in history, appreciated the differences in the two towns."
Joe and Linda also enjoyed their trips to Cancún and Tulum. Cancún is in southeastern Mexico on the northeast coast of the Yucatán Peninsula in the Mexican state of Quintana Roo. The city, one of Mexico's easternmost points, is on the Caribbean Sea just north of Mexico's Caribbean coast resort band known as the Riviera Maya. Tulum is the site of a pre-Columbian Mayan walled city. It dates back to the 12th century and was one of the last cities built and inhabited by the Maya. Tulum consists of four main areas: the archaeological site, the town (puebla), the hotel zone, and the biosphere reserve of Sian Ka'an.
"Joe and I loved the white sandy beaches and the jade-green water, but we noticed the locals seemed to be struggling more to make ends meet. They were very nice to tourists, but they didn't seem to benefit as much by the tourist trade. I felt the heat more and probably would have just cooled off in the shade at the beach, but Joe wanted to explore the ruins of Cobá. I think he would have happily spent every day there learning about Mayan culture and history. You can find inexpensive lodging in the Puebla, but it's noisy and more crowded. We stayed in the hotel zone which was quieter and closer to the beach."
I asked Linda for some travel tips for people heading to Mexico.
Here is her advice:
1. Joe and I like to find an all-inclusive package at a resort. That way we can relax because there are no surprises with fees.
An all-inclusive resort package includes basic lodging, three meals a day, soft drinks and most alcoholic drinks, gratuities, and many include some other services or offer sports and non-motorized watersports and other activities in the price.
It's important to find the package that's right for your needs. Some all-inclusive resorts are designed for specific vacation interests. Many resorts cater to adults, and some specialized properties accept couples only. Other all-inclusive resorts are geared toward families. These facilities include craft centers, games rooms, and water parks to keep children of all ages entertained.
2. Try the local cuisine and sample the local wines, beers, mescats or tequillas.
Mexico is not traditionally a wine-drinking country. Mexicans typically prefer beer, tequila and mezcal. Interest in Mexican wine is growing along with Mexican wines' reputation throughout the world. Various wine producers from Mexico have won international awards for their products. Casa Madera in Mexico is the oldest winery in the Americas dating back to the late 1500's. Choose from Rośe, Syrah, Sémillion, Merlot, Chenin Blanc, Carbernet Sauvignon or Chardonnay.
3. If you are going to Mexico, take 10 vacation days because two full days will be spent traveling there and back.
4. You have to find a balance. Try new things, but remember to leave some time to relax and regroup. Enjoy the beauty of your surroundings. It's tempting to try to fit everything into your vacation, but it's exhausting.
5. Bring your experience home with you. Make a few videos and take plenty of photos. Share them on social media after your vacation. Be sure to save your photos to the cloud and make an album on your computer or tablet. Prepare some Mexican recipes when you come back and invite your friends over to share your experience.
There's always one souvenir you just can't resist...
Is it time for a fiesta or my siesta?
Linda Cahill is an independent consultant with the Pampered Chef. She will be a regular contributor to This Awful-Awesome Life in our new Foods Section. Please like and follow her on Facebook https://www.facebook.com/LindaCahillandPamperedChef and and Twitter at https://twitter.com/Lindathechef Visit her website, www.pamperedchef.biz/lindacahill or email at lindathechef@gmail.com.
All photos courtesy of Joe and Linda Cahill except the map and the city of Los Cabos - photo by Stan Grebs, downloaded 4August 2017 from Wikipedia.